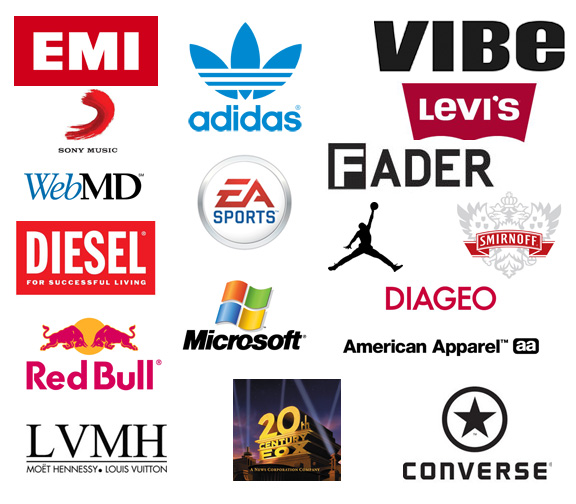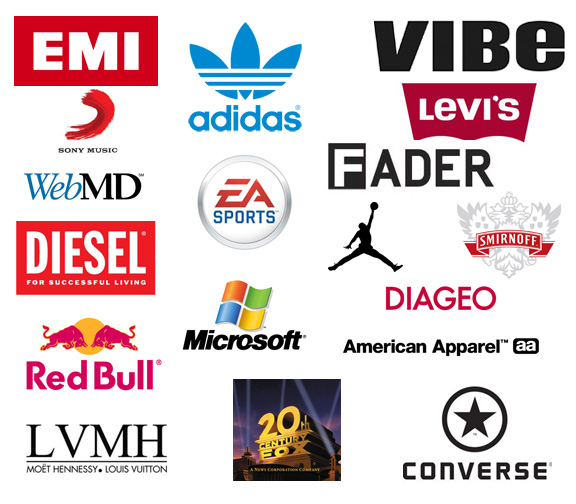 I've deejayed events for some of the biggest brands in the world.
This is a few of my previous clients. I've worked with Fortune 500 companies to small local businesses and I treat every dj gig the same – with enthusiasm, style and class.
Hear from a few of my previous clients:
"Sure Shot has played a few events for us and he's been great. He knew just what to play to keep the vibe light and fun."
Jamaal Layne – Entertainment Relations Manager – Converse
"Sure Shot is the go-to DJ for our big events. His music selection and taste keeps the crowds dancing and the mood festive. We always get compliments from clients on the music."
Pasal Sugar – Plus Factor Events
"Gary and Jamar really made our wedding reception epic! The dance floor was packed all night with music ranging from hip hop, to soul, rock and beyond. Not only was their skill evident but playing the right song at the right time made for a great night. Our guests had a blast and one of them told me they could never sit or use the bathroom because the music was too good to take a break. Both Gary and Jamar were very professional and I would even say they were musical directors. Thanks for making our weddingday memorable."
Katie and Stefan
"Thanks for rocking that event. The client is normally really picky about the music but you had it just right!"
J. Nicholson – Cornerstone Promotion
"Sure Shot was great! He had us dancing all night long. Everyone was asking me about the DJ the next day."
Jenay Alejandro – Moet Hennesy (LVMH)
Thanks again, Jamar! You did a great job and many people commented to me on how good the music was. We will keep you in mind for future events!
Alison Coen – St. Jean Baptiste Community Center
Click here to view a list of venues I've played at recently.